Massachusetts ocean lovers take note! Important legislation to update our state's outdated beach access laws has just been refiled for the 2023-2024 legislative session on Beacon Hill by Rep. Dylan Fernandes and Sen. Julian Cyr.

You can help Surfrider MA improve public access to the coast for all people by contacting your own elected state representatives and asking them to co-sponsor 'An Act Relative to Recreation on Private Tidelands' Bill Numbers H.795 / S.462. More details below.

You can also show your support by signing and sharing this online petition being organized by Rep. Fernandes and Sen. Cyr!
---
A Bit of Background
Beach access in every state is guided by the 'Public Trust Doctrine,' which has its origins in ancient Roman law and holds that all rights in the tidelands (between the high and low tide marks) and the water itself are held 'in trust' by the state for the benefit of the public, regardless of private land ownership.



Despite this, Massachusetts has some of the most outdated and restrictive beach access laws in the country. Our current laws come directly from the 'Colonial Ordinances of 1641-1647' and have been generally interpreted as prohibiting beachgoers from accessing any private beach above the low tide mark without permission of the property owner. In most other coastal states, property owners are significantly restricted from limiting public access below the mean high tide mark.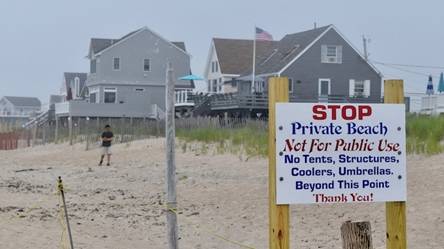 Current Massachusetts law specifically reserves public access to private tidelands for 3 purposes: fishing, fowling, and navigation. However, the public right of access for low impact recreation (such as walking or sitting) is not explicitly included in current state law.
2023 Legislative Remedy
The proposed remedy – 'An Act Relative to Recreation on Private Tidelands' (H.795 / S.462) – is simple, minimally invasive, and effective. If passed, it will reaffirm 'recreation' as a specifically allowed public use of private tidelands by updating the definition of 'private tidelands' in MA state law to be:

"Private tidelands'', tidelands held by a private party subject to an easement of the public for the purposes of recreation and navigation and free fishing and fowling and of passing freely over and through the water."

This clarification of legal public shoreline use will benefit all beach and ocean lovers in Massachusetts!
---
How You Can Take Action!
Please contact your state legislators and ask them to co-sponsor 'An Act Relative to Recreation on Private Tidelands' (H.795 / S.462).
You can use your address to find contact information for your own State Representative and State Senator using the 'Find My Legislator' tool.

If you'd like a bit of help on what to say, we've also created a script and some ideas on talking points for when you call or email.

Finally, please widely share what you've learned about this issue using your own networks! Share this information and ask friends and neighbors (especially those in your district) to reach out also!
---
If you have questions about this bill and beach access in MA, or want to join this campaign, please contact us!